NurtureLux Calming

Sleep Accessories…
Helping you Rest & Sleep easier for
Home & Travel
Just for you
Sleep help toolkit in each elegant personal nurturing pillows and pillowcases by NurtureLux™.
Self-care,
decor, healthier hair & skin.
You'll feel and look your best. 
Reinventing the Luxury of R.E.S.T.
Made in Nevada, USA:
Sleep&ABow® The first decor, anti-aging, sleepaid, sleep mask pillowcase
  TheraPocket® anti-aging, sleepaid pillowcase and soothing sleep mask
 Comfy sleep for optimal health & wellness
For sleep, the bow is two convenient sleeves from the sides of the pillowcase. use them as a gentle sleep mask and shut out lights and distractions for a calming effect. Helps you sleep longer. A sleep mask pillowcase for early morning sun.

For decor, slip the sleeve ends from the sides through the center loop.  An elegant bow looks beautiful on the bed 

Self-nurturing options:

Create Your own comfort zone. Cocoons & covers your ears or chest in a cool room. Insert warmth, cooling, or aroma therapy pack in the sleeve to soothe away tension and headache pain. Soothing to sleep easy, your way

Youthful skin & hair while you sleep. Retains natural oils and moisture for healthier skin and shinier hair. Prevents wrinkles, split ends and frizzy hair. Hypoallergenic, anti bacterial. Pillowcase or mini nap-size throw pillow.
Machine washable in Lux Vegan Satin Feels wonderful on your skin, for healthy skin and hair  Sleep&ABow® Best sleep ever and looks beautiful on your bed.

Healthy sleep is our mission.

The C.D.C. says many of us women are not getting enough sleep.  NurtureLux is committed to supporting your sleep experience. Luxury with lots of self-nurturing options to rest easier
Re-imagined design to do much more than just cover a pillow. Helping you create a personal sleep comfort zone... Just for You, or a selfcare gift with a forever bow.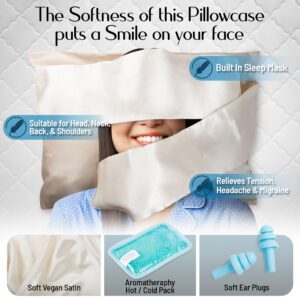 Comfort Gift Included,
Sleep-nurture comfy kit: 
 Warmth-cooling pack and soft comfy earplugs, with purchase of a selfcare pillowcase, pillow or travel pillow
Your satisfaction is guaranteed, 30 day no fuss return policy.
Here's a little more about our TheraPocket® Selfcare pillowcase and
The CuddleBow™ Travel, spa  pillow collection
TheraPocket 
Anti-aging, sleep-aid, hair & skin care, warmth or cooling comfort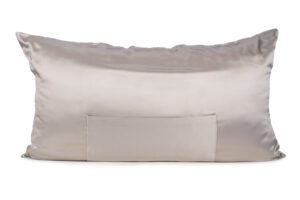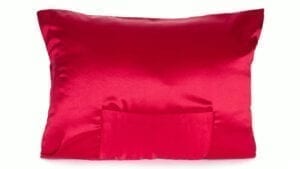 A pocket for warmth or cooling therapy pack to relax your neck, shoulders or low back. Relieves pain and tension. Use your pocket for a calming bedtime note or journal. Write it release it. Write what's keeping you awake and release it for the night. The pocket is a convenient place to keep your sleep mask, bedtime note pad, jade roller, scrunchy. Sleep and rest wll.
Helps to create your relaxing sleep environment and  bedtime or anytime selfcare routine. 
For all the facts & benefits about silk and satin pillowcases. Check out our Wellness Blog 

CuddleBow -

Heat-able, huggable meditation spa pillow
"A grown-up security blanket"
Relaxing and cuddly for your neck, low back and lumbar heat-able on demand. Slightly weighted for a calming experience. Contoured for your neck, shoulders and chin support.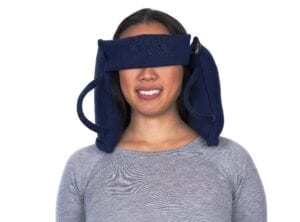 Noise dampening cushion keeps your ears warm. Soft and cushy comfort. Made with 80% cotton fleece. Low back and tummy heated pain relief. Attached padded anti aging satin eye mask for a calming personal retreat.
A great little pillow for travel, your car or office chair to soothe and support while you're sitting.  Escape on a tranquil journey of rest, rejuvenation and pampering luxurious comfort for a better night's sleep for home or travel
With three issued patents and five patents pending, We are...
  "Reinventing the Luxury of Rest" 
Thank you so much for supporting our woman owned small business. Stay connected there's a lot more comfort to come here at NurtureLux Sleep Co.  ♥♥♥ Lux Pillows Plus
NurtureLux gives a portion to Three Square Food Bank @ ThreeSquare.org